Nikola Jokic scored 15 points with 16 rebounds, seven assists, two steals and two triples in 32 minutes vs. the Hornets on Monday.
Dwight Howard and the Hornets have been a tough matchup for opposing centers all season, making this line even more impressive for The Joker. He finished 5-of-11 from the field and hit all three free throws. He has 5+ assists in nine straight games and has top-20 value in 9-cat leagues over the past two weeks. He won't reach his ADP, but Jokic is getting the job done for his fantasy owners right now.
Nikola Jokic's boxscore stats
32 minutes played and added 16 rebounds, 7 assists, 0 blocks and 2 steals.
5/11 field goals made-attempted (FG%: 45.5%)
2/4 three point field goals made-attempted (3P%: 50.0%)
3/3 free throws made-attempted (FT% 100.0%)
3 fouls and 3 turnovers.
Dwight Howard and Nikola Jokic play the center position so differently they might as well be entirely different positions all together. Howard is a bull in a china shop with an outside shot that looks painful and a strong inside game that pays off at the rim and on the glass.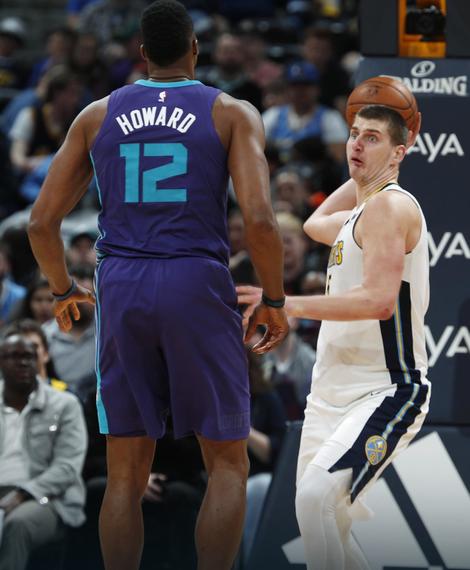 Jokic looks like he rolled into a rec league game in Saskatchewan after getting lost on his way to go ice fishing, but plays like a virtuoso with an elegant-yet-gangly offensive game and defense that (at least for a half tonight) was nearly somnambulant.
Howard had his way in the paint early, overpowering Jokic time after time on his way to the rack. Jokic remained gleefully defiant about not shooting, preferring to pass his way to team scoring early and racking up assists and rebounds. After halftime Jokic came out looking to score and put his mark on the game and Dwight… well Dwight couldn't do much to stop him. Jokic finished with the most innocuous 15 point, 16 rebound and 7 assist performance you may ever see, while Dwight had 19 points and 7 rebounds but struggled to solve the Serbian riddle and to adjust to a future version of the position.
This was a strangely fascinating clash of strengths – check out the highlights below!