Denver Nuggets Nikola Jokic, a 6-foot-10 center, is averaging more assists over the last month than all but five starting point guards in the NBA.
Following a loss to the timorous Phoenix Suns on Jan. 19, Denver Nuggets head coach Michael Malone vowed to dial up fewer plays, hoping autonomy would open up his inchoate offense. It has.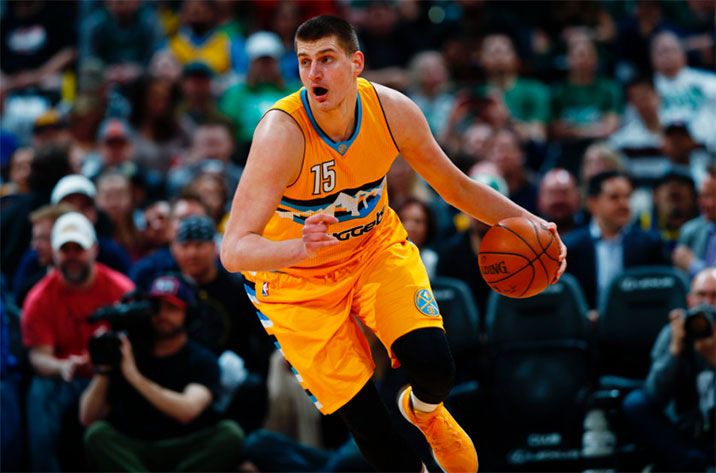 Denver is scoring 113.9 points per 100 possessions over the eight games since, the best mark in the NBA, and no team has a higher assist-to-turnover rate (2.1) in that span. Much of that is a credit to Nikola Jokic, who is seeing more touches and has seized control of the show, averaging 18.1 points, 11.4 rebounds and 8.1 assists per contest over that stretch. And if you think that a 6-foot-10 Serbian running an NBA offense is, well, unorthodox — you're exactly right.
On a roster without a true, consistent point guard, it's not difficult to discern why Malone would cede the reins to Jokic, whose court vision is unparalleled among frontcourt players in the league. He's ranked between the 94th and 100th percentiles among power forwards and centers in assist rate each of his three seasons in the NBA and he's working on his second consecutive campaign of at least 16 points and 4.5 assists per contest. Only three players at least 6-foot-10 have reached those bench marks more than twice: Kareem Abdul-Jabbar, Kevin Garnett and Wilt Chamberlain.
When he leaves the floor, Denver's offense craters, dropping from a top-four scoring lineup (110.1 points per 100 possessions) to one that would reside in the bottom eight (104.1), and the Nuggets' team assist rate drops nearly four percent. Jokic, mind you, is averaging more assists over the last month than all but five starting point guards in the NBA.
Since Malone issued his comments, only Ben Simmons (97.4) and Russell Westbrook (97.3) are averaging more touches than Jokic (91.6). They're all true point guards, of course, while 73 percent of Jokic's minutes this season have been at center, according to data from Basketball-Reference.com. And yet, because Jokic is often mentally three steps ahead of his defender, he seldom holds the ball for long; in fact, over the last eight games, Jokic ranks 61st in time of possession (3.1 minutes per game) despite ranking third in touches.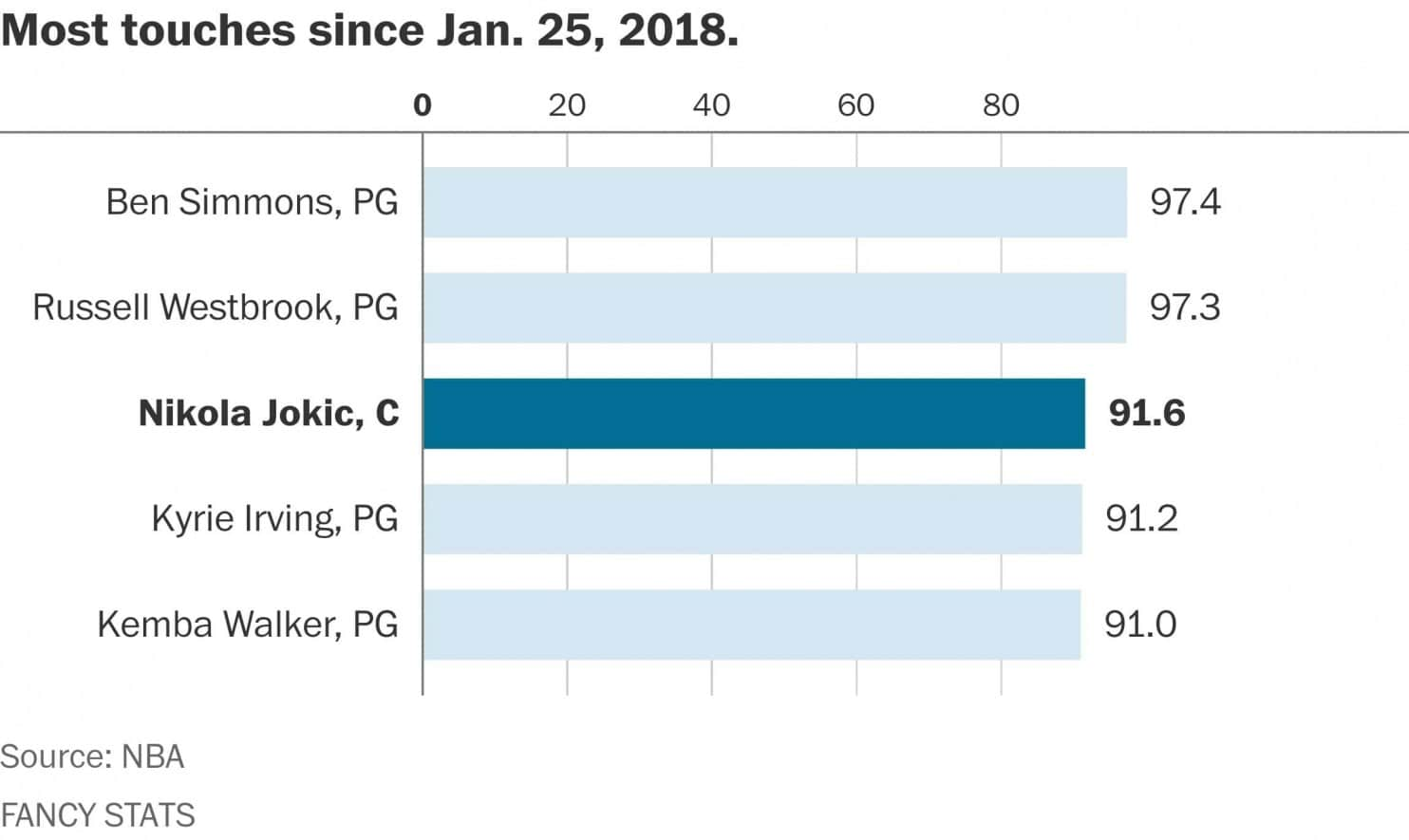 In the sequence below, Jokic spots Will Barton in the corner and calls for a post entry pass. As the pass soars toward the paint, Jokic rotates his hand and tip-passes it out Barton, who drills a wide-open shot. Few players in the entire league can create that sequence.
Here, Jokic slings a slick, no-look, behind-the-back entry pass to Trey Lyles for the bucket.
Putting the ball in Jokic's hands also frees up the sharpshooting Jamal Murray to be where he's most effective: off the ball. Murray, Denver's starting point guard who averages three assists per contest, ranks in the 89th percentile in catch-and-shoot scoring efficiency and the 85th percentile coming off screens. Since Jokic began getting more involved the last eight games, Murray is shooting 48 percent from three-point territory and 52.1 percent from the field. A higher portion of those made shots have been assisted upon, according to data from NBA.com.
Jokic, too, has never been deadlier from the perimeter, shooting 35 percent from beyond the arc and 37 percent on pull-up three-pointers. Threatening both near the rim and along the perimeter, Jokic is a nightmarish matchup for any defender.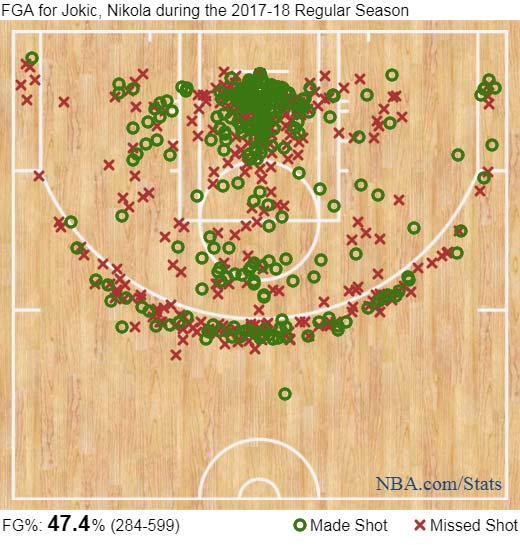 Additionally, Denver has the worst isolation offense in the league, scoring a measly 0.77 points per possession, according to data provided by Synergy Sports. If things break down offensively, Jokic is unquestionably who Malone wants to have the ball; he ranks in the 99th percentile in isolation scoring efficiency (1.36 points per possession) and the 61st percentile in post-up scoring efficiency (0.90).
Denver is barreling toward its first playoff appearance since 2013, led by a Jokic-inspired offensive attack that posts strong marks in creativity. Once a man who chugged three liters of Coca-Cola per day, Jokic has transformed into the Nuggets' maestro, shedding preconceived notions of how a frontcourt player should operate in an NBA offense. No team in the league is scoring with more velocity than the Denver Nuggets, chiefly because the team's largest player is calling the shots and pulling the strings.